Digital Nomads: a Future Consequence of the Pandemic Era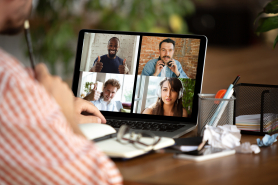 by Chris Richardson
In the early months of the year, most articles and editorials regarding COVID-19 - whether they were written in New Delhi or New York - were working on the premise that the pandemic would essentially be vanquished by the end of 2020. During the summer months, observers pointed to China's apparently successful handling of the epidemic and assumed a similar outcome elsewhere. We have now arrived at the last quarter of the year, and this prognosis seems to have been wildly optimistic. In much of the world, the virus is still infecting more people rather than less. As a result, the quickly-implemented remote working practices of businesses - which came to be called the "new normal" - are still with us. The " new normal" is fast becoming more permanent than anyone could have envisaged, even six months ago. But then we should not be surprised about this, given that countries from Finland to Thailand were required to practice extreme social distancing measures. At one point, an astonishing 50% of the entire world's GDP was on lockdown due to the pandemic.
The Slowing Down of International Mobility
The sheer scale of the scenario not only caused businesses to adjust their worldwide working methods, but has led Governments on every continent to look at their own practices and procedures. Just as global businesses found themselves operating with diverse remote teams that were previously unimaginable, the most international aspect of routine Governmental activity - the management of inbound immigration - has been witness to unexpected challenges and changes. This was felt most immediately in the area of visa processing at the local level. Due to the physical closure of Government immigration offices, expats the world over were unable to renew soon-to-be expiring work and residency visas for the country in which they were legally employed and leading their daily lives. Governments quickly made announcements that existing work and residency visas were being automatically extended to a certain date, by which time it was assumed that immigration offices would be functioning again. However as the COVID-19 pandemic increased in intensity, the reopening date of official immigration offices was pushed ever further forward. This led many of the world's Governments to create an online visa renewal procedure from scratch, designed for employers hosting expat employees already in situ. The logic for this was that the backlog of existing visa renewals alone would be so great once the pandemic was over, that it would overwhelm the entire visa-processing system of a Government's immigration department.
The same phenomenon was occurring regarding the processing of work and residency permits overseas. Those who have applied for a work or residency visa for the first time, are often required to report to the Embassy of the impending host country in order to participate in a final interview. Of course the visa processing departments of Embassies and Consulates were subject to the national or local pandemic restrictions of the country that they are situated in. This meant that many of them had to simply close their doors, until it was possible for applicants to once more visit the office in person. An online procedure is not possible in these situations, as immigration officials are invariably required to meet with applicants before issuing a work or residency visa for the first time. With which the arrival dates of critical new hires for international companies are being ever more delayed. This has caused entire corporate strategies to have to be put on hold. By now the visa processing offices of Embassies and Consulates are functioning again, but at a reduced capacity due to ongoing social distancing requirements. The backlogs are therefore being reduced. However plenty of applicants - from Chile to China - are still waiting for the Embassy appointment that they need, in order to obtain the appropriate visa for their long-awaited job transfer.
Many key expat destinations around the world are still getting up to speed in terms of processing work and residency permits. Random examples include:
Brazil: appointments for visa registrations are slowly beginning to be scheduled or rescheduled. Delays can be expected for appointment availability, due to the closure of this Government function over the past six months.
Costa Rica: entry visa processing and issuance at all Costa Rican consular posts is suspended until February 2021.
Ireland: visa registration offices have reopened on an appointment-only basis. Consular posts have resumed processing employment-based entry visas, although with a significant backlog.
Singapore: foreign nationals who are overseas are finding that approvals for new applications are being limited.
Switzerland: immigration processing has resumed, although individuals whose applications were suspended during the closure may be required to refile their application.
United States of America: the United States Citizenship and Immigration Services Department has re-opened some of its local offices and Application Support Centers for in-person interviews. although the reopening dates vary by location. Embassies and Consulates are gradually resuming visa processing in a phased-in approach, with timelines dependent on local country conditions related to COVID-19.
Both expats already in the country and potential expats yet to arrive, have been caused varying levels of anxiety and/or disruption that could not have been anticipated by their employers. Each individual has their own story of uncertainty, as they attempted to continue or commence their international assignment. Such scenarios have been literally duplicated in the millions, given the total number of employed expats that there are in the world. This obstruction to the mobility of professionals has meant that global enterprises have had to postpone - or even suspend - their carefully planned strategies. The more businesses that were affected, the more turmoil was caused to the national economies of the countries in which they were operating.
Future Trends at the Governmental Level
This has already led to the development of certain key trends in the way that Governments are likely to handle immigration moving forward. Governments are now looking at how best to balance the needs of their economies with the health issues of this and possible future pandemics. The key issues facing international employers in the future due to Government practices are likely to be:
greater uncertainty regarding local visa extensions for existing expats (due to evolving health issues on the ground)
fewer short term assignments being offered (due to quarantine restrictions on the ground)
greater uncertainty in planning transfers due to visa processing delays by Governments
increased costs in such areas as temporary living, due to the uncertainties in planning transfers
an increase in the level of health information being gathered by Governments at the visa processing stage
health insurance provision becoming a more common requirement in visa issuance
Just as the pandemic has impacted the decision-making and business practices of global companies, we can see that it is also causing Governments to review their immigration procedures. Indeed the Department of Immigration, Refugees and Citizenship of Canada (or IRCC) has already stated publicly that it expects to have significantly different policies, procedures and digital solutions in place to handle post-coronavirus visa applications. The IRCC has advised that it would like to utilize digital processes whenever possible, in order to minimize the need for in-person or paper-processes. It considers that this would not only protect the health of IRCC officials and the public, but could also result in more efficient and faster application processing.
Remote Working as the "New Permanent"
Coupled with the above immigration-specific factors is the explosive worldwide growth in remote working business practice that the pandemic has produced. A recent survey conducted in the United States showed that no less than 74% of business leaders were planning to retain large numbers of their previously on-site workforce in remote positions post-COVID-19. The biggest factor driving this permanency was the cost-saving benefits of having employees work from home, due to the reduction of on-site technology spend and reduced real estate costs. Correspondingly, the same survey also revealed that 79% of employees want to continue to work remotely once the crisis is over. This has been brought to light in a way that would never have happened without the pandemic. Meanwhile another survey in the United States found that remote employees could make annual savings of up to $4,000, by not having the cost of their commute, their lunches and the other expenses that are incurred with being in the office every day. These factors are already increasing satisfaction levels among employers and employees alike, from one end of the world to the other. Known in French as "le télétravail", in Spanish as "el teletrabajo" and in Japanese as "rimooto waaku", the practice of working remotely would appear to be here to stay.
Concurrent with this is the presence of an ever-increasing number of "digital nomads" in the global workforce. Digital nomads are defined as independent workers who embrace a location-independent, technology-enabled lifestyle that allows them to travel and work remotely, at any time and anywhere they choose. Research shows that the United States alone has 4.8 million employed people who classify themselves as digital nomads (whether working remotely within the United States or not). The trends already mentioned above - coupled with the growth of online talent marketplaces and online information sites - has enabled more and more people to choose the digital nomad lifestyle. They tend to be a diverse group, made up of no single generation, profession or socio-economic background. Research shows that just over half of the world's digital nomads are older than forty years of age, and that they are split more or less evenly between full and part-time workers.
A Nomad's World
With all of these factors in mind, some of the world's Governments have even taken the step of inventing a specific work visa to attract digital nomads to their country. The visa holders do not need to be employed in their territory in any way. However by stipulating a certain income level, Governments taking this path feel that the expenditure of digital nomads in the local economy makes the issuance of such visas worthwhile. There is usually the stipulation that the digital nomad possesses an international health insurance policy that covers the country involved, so as to avoid any burden on local health systems. The number of countries offering this kind of work permit is still limited, although there is at least one new addition in every quarter. So far though, the list is primarily divided into two strikingly different geographical "zones": tropical island nations close to the United States and Central/Eastern Europe.
Current examples of countries offering digital nomad visas (the below information being subject to change) are:
Tropical Islands
Antigua has recently introduced a scheme called the "Nomad Digital Residence (NDR) Visa", which is valid for two years. Applicants must show the means to support themselves and any family members that may join them. Applicants must own a location independent business and/or work remotely for a company based outside of Antigua, and have a salary of at least $50,000 per year.
Barbados has also recently introduced a digital nomad visa called the "Barbados Welcome Stamp", which is valid for one year and can be extended. Similarly to the Antiguan visa, applicants must own a location independent business and/or work remotely for a company based outside of the country and have a salary of at least $50,000 per year.
Bermuda offers a "Work From Bermuda" visa, which allows remote workers to stay in the country for up to a year. Applicants must own a location independent business and/or work remotely for a company based outside of Bermuda, although there is no minimum income requirement.
Central and Eastern Europe
The Czech Republic offers a digital nomad visa called the "Zivno", which is valid for one year and can be extended. Applicants must be active in one of eighty Government-approved professions deemed eligible for the visa. Applicants must have proof of pre-arranged accommodation for at least a year, have at least €5,587 in their bank account and must pay a small amount per month in local taxes. Applicants are required to make an in-person appointment at their nearest Czech Embassy or Consulate.
Estonia was the first country to create a one-year visa that allows foreigners to live in the country while working remotely. Applicants must work for a company based outside of Estonia, and have proof of a salary of no less than €3500 per month for the previous six months. Applicants are required to complete an online application form, and make an in-person appointment at their nearest Estonian Embassy or Consulate.
Georgia is the latest country to offer a digital nomad visa, which is called the "Remotely from Georgia Visa". Applicants must own a location independent business and/or work for a company based outside of Georgia. Applicants must prove the financial ability to pay taxes while in Georgia, and have a salary of at least €1700/$2000 per month.
Such digital nomad visas are an entirely new phenomenon that would probably not have evolved without the COVID-19 pandemic raising the profile of remote working all around the world. Several other countries - such as Costa Rica, Germany and Norway - offer general temporary work permit schemes, although they currently have tighter conditions than those listed above. However they will be among those nations most closely monitoring the progress of the countries with specific digital nomad visas, and in particular the potentially positive effect they have on the local economy in such challenging times.
In Conclusion
The global reach of the COVID-19 pandemic has impacted business activity from one end of Planet Earth to the other. Companies all over the world are changing their entire employment practices in response to the conditions imposed by the pandemic. An inevitable repercussion of this has been the downturn in local and national economies, from Bogotá to Bangkok. The more internationally-exposed an economy is, the greater the potential for a pandemic-era recession. Governments are therefore emulating global businesses, in designing immigration policies that are better suited to a post-pandemic world. These phenomena will have consequences on the way in which we work - and move between countries - that will reach far into the future.
Editor's note: World Trade Resource is a proud partner of the immigration specialist Fragomen Global LLP. We thank them for their contribution to this article.